Irish Eyes are Smiling at Royal New Kent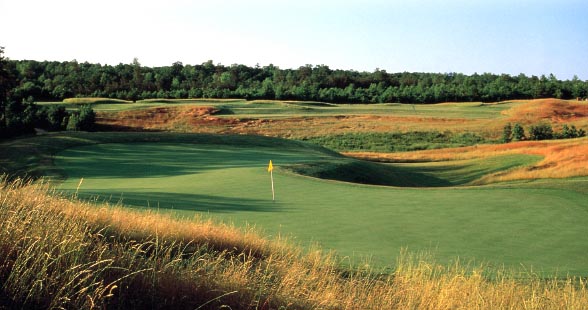 The accolades began even before a single shot was taken at Royal New Kent. By the time most golfers got their first in-person look, Golf Digest had already crowned it the "Best New Course in the Country" for 1997. The kudos have continued to mount over the past quarter-of-a-century, a testimony to architect Mike Strantz's original vision to create the truest representation of an Irish links layout this side of the Atlantic Ocean.
Imagine, if you will, plucking up Royal County Down or Ballybunion by their roots and transplanting them — bunkers, dunes and fescue included — to a 282-acre plot of land just 20 or so miles west of Williamsburg, VA. Do that and you'll have an idea as to what Royal New Kent is like. The course takes players back in time when layouts were designed with the touch of an artist and when the natural contours of the land dictated the way holes wind over the hilly, tree-lined terrain.
Hand-stacked rock walls crisscrossing the fairways, target rocks on windswept mounds, wispy native grasses, and 105 deep and menacing bunkers provide an authentic Irish vibe. And much like the great courses of Ireland, a bit of misfortune often awaits around the next turn or over the next hill. The Irish, it should be noted here, realize that golf, like life, was never meant to be easy or entirely fair.
Flowing across 7,440 yards of rugged landscape, Royal New Kent can be one of the most difficult courses in the country if played from the "Invicta" tees ("Invicta" meaning undefeated or unconquered and tracing its origin back to ancient Rome). Therefore, the pro shop staff, bag attendants, starter, and even the drink cart guy or gal will strongly suggest playing the appropriate markers that coincide with your ability. Take their advice and the dark ale will taste much sweeter in the clubhouse's Strantz Pub after your round.
The Irish have a saying: "Enjoy your round and may Good Luck be your friend." And while that's true at Royal New Kent, Strantz was also kind enough to incorporate a little good fortune of his own into the course's design. The landing areas are actually quite wide and forgiving, even for those of us who occasionally spray the ball off the tee. It is the approach shots that require focus and concentration. The newly transitioned Champions Bermuda greens are very large and provide inviting targets with bold swales and ridges. However, they are often hidden behind bumpy knolls, tall fescue grasses or the aforementioned rock walls, or sometimes perched precariously just a few feet from deep chasms and ravines. Each hole offers several playing options, ranging from safe to foolish, so the risk-reward factor must be calculated into just about every shot decision.
The par-4, 372-yard (middle tees) opening hole provides a harbinger of what golfers can expect to encounter at Royal New Kent. From an elevated tee box, you'll get your first look at the rock walls and tall grasses that run along the snaking fairway below. The hole bends sharply left around a large mound with the approach played decidedly uphill to an oversized green. Number 1 sets the mood for the rest of your day, and on many courses, would be considered the signature hole. But in a succession of you've-never-seen-this-before holes with strong suggestions at every turn that you-ain't-seen-nothing-yet, the jig would be up if you tried to pick a favorite.
Take the 571-yard No. 5, for example. Here, Strantz designed a par 5 with a distinctive hourglass effect. The tee shot is played to a wide fairway that narrows as it moves away from you. The second shot is played through a cut between two hills to a blind landing area that widens on the other side.
The 167-yard, No. 7 is an all-or-nothing par 3 played to an elongated green that angles away from the raised tee box, right to left. Steep mounds form a natural wall on the right side and a small stream protects the left side. This is an all-carry hole, with sand, scrub, rough and muck from tee to green.
Like the front, the back nine, too, has more than its share of highlight holes. The tee shot at the par-5, No. 10, for example, must carry up and over to a ridged landing area with a massive bunker guarding the left side. There's also the short, nearly reachable par-4 No. 14 made dangerous by a seemingly shrinking narrow fairway and the par-5 17th with its long and skinny green protected in front by a curling stream. Royal New Kent ends, fittingly enough, with one of the greatest challenges of the day. The 403-yard No. 18 requires a lengthy tee shot to a crowned fairway. You'll need to reach the top to see just what lies ahead, one of the course's smallest greens tucked below with water in front and both sides. At times, many of the holes' designs come close to going over the top, but ultimately never asks the impossible from a golfer.
Royal New Kent was Strantz's third solo effort after working hand-in-hand with noted golf architect Tom Fazio for years. His layouts are well-known for being unique and memorable, witnessed by the fact that all seven of his courses (Strantz's career was cut short, losing his battle with cancer in 2004 at the age of 50) have been ranked in the "top 100" by Golf Digest. Royal New Kent most closely resembles his masterpiece at Tobacco Road near Pinehurst, NC, which has become a destination mecca for Mid-Atlantic golfers. In fact, thanks to recent renovations and new ownership, Royal New Kent might just now have the upper hand. Even better, a round here won't require you to pawn one of your lucky charms.
The 2023 TeeTime Golf Pass includes four attractive promotional plays at Royal New Kent, including a $50 weekday senior offer and a $200 weekday foursome special. The course is also easily accessible just off I-64 in Providence Forge, VA, about midway along the Richmond-Williamsburg corridor making it worthy of a day trip for just about anyone who lives and plays in the region. Beautiful. Brutal. Unforgiving. And a ton of fun to play. It's little wonder why Irish Eyes are smiling at Royal New Kent.
Please share this article!
Similar
Blogs