Join 1,000,000+ members who've saved
with TeeTime Golf Pass
Save on green fees
You could save up to 50% per round with TeeTime Golf Pass.
Exclusive member deals
Many deals can only be accessed with a TeeTime Golf Pass membership.
No booking fees
Members never have to pay any booking fees.
How It
Works
A TeeTime Golf Pass membership gets you access to save on greens fees at nearly 1,000 golf courses with thousands of deals. Sign up for a membership and choose whether you want to access deals on your phone or get a print edition sent to you in the mail. Then simply search for a golf course you want to play, book the tee time with them, redeem your deal at the course and enjoy your round.
1

Sign up

Sign up for a TeeTime Golf Pass membership.

2

Book

Search for a course you want to play and book a tee time directly with them.

3

Enjoy

Redeem the deal at the golf course and enjoy your savings!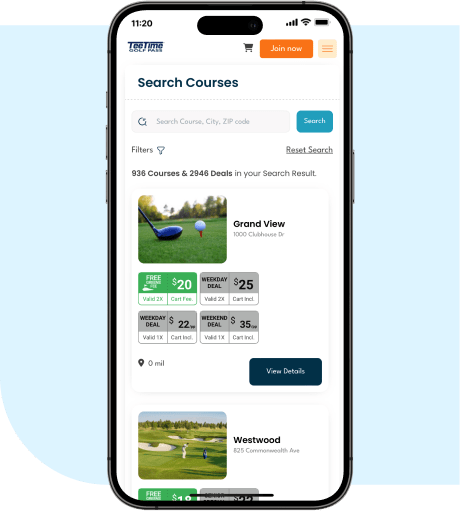 Our Customers Love
TeeTime Golf Pass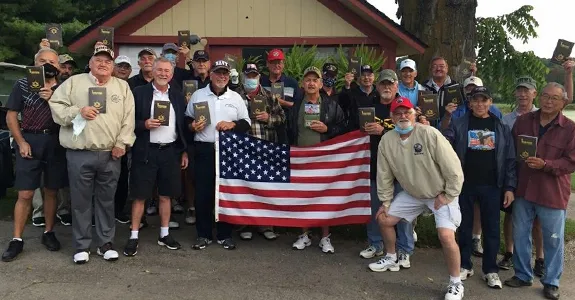 We all love the TeeTime book because of how much money it saves us! We use it every week and save over $300 a year.
Plymouth, Michigan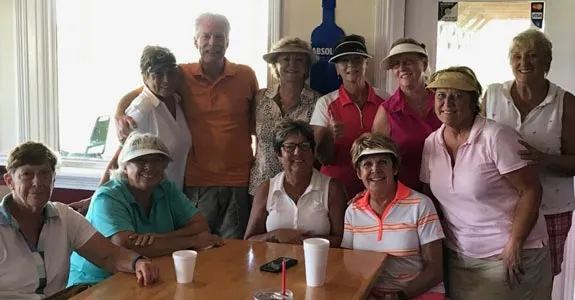 From day one we are saving money with our Tee Time Golf Pass booklet. We purchase a book each year and play as many courses as possible. Best value in golf!
Prospect, Kentucky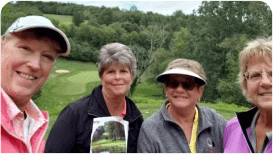 My small group plays golf twice a week and enjoys the discount when using the TeeTime pass. We also take at least two three-day trips a year and look through the TeeTime book to pick our courses.
Coopersburg, Pennsylvania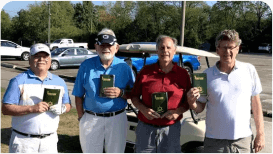 Since we couldn't bowl together this year, we bought the Tee Time Golf Pass. We get together once a week and enjoy different courses with great saving and great fun.
New Kensington, Pennsylvania
TeeTime
Golf Passes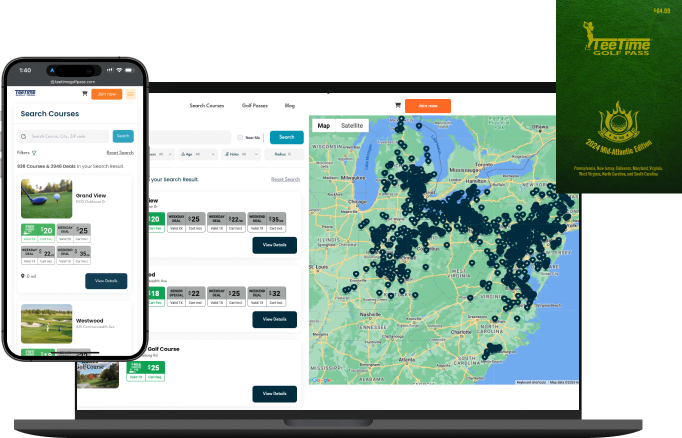 Find Your Golf Pass
There are 5 regional golf passes you can choose from depending on where you want to play.  Join to get access to your favorite courses and hundreds more in the surrounding region PLUS bonus destination like Myrtle Beach, South Carolina.  We got you covered with awesome deals and discounts at 1,000 golf courses across 14 states from Michigan down to South Carolina.
Choose your golf pass below or just get Super Pass and get access to ALL our courses and ALL deals.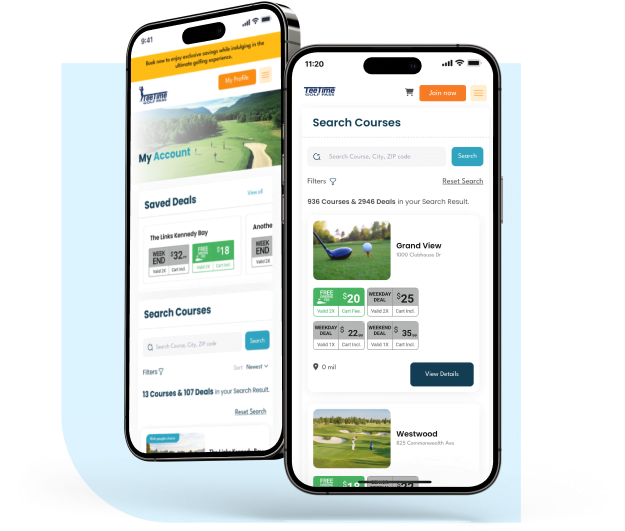 Meet Super Pass
We're excited to introduce Super Pass, our all in one membership.  Get access to ALL courses and ALL deals on TeeTime Golf Pass at one low price.  You can play at nearly 1,000 golf courses and access thousands of deals.  Like all our digital memberships, Super Pass also gives you in-round specials which include food, drink and pro shop deals at the course.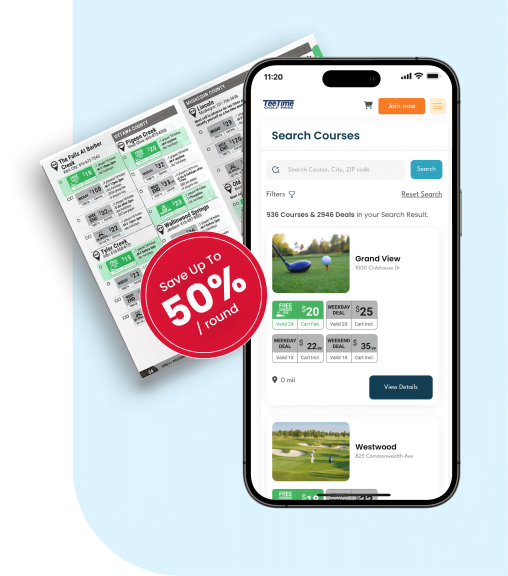 It Pays For Itself
With the TeeTime Golf Pass you could save up to 50% per round at your favorite golf courses.  With our deals, the membership can pay for itself in as little as 2 visits.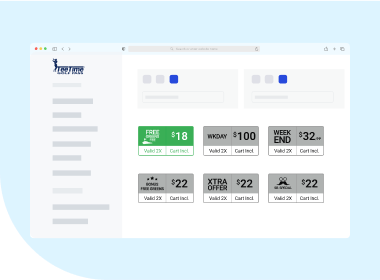 Happily Serving Members For 32 Years
TeeTime Golf Pass is proud of our history as we've been saving golfers money since 1992. We started out serving a few courses in rural Pennsylvania and have grown considerably since then.
Frequently
Asked Questions
Answers to FAQs about TeeTime Golf Pass
What is TeeTime Golf Pass Super Pass?
Super Pass gives you access to ALL 926 courses and ALL 2,946 deals on TeeTime Golf Pass for one low price.

If you like to travel you can also save up to 50% per round at amazing courses in 14 states including: All states covered: Connecticut, Delaware, Indiana, Kentucky, Maryland, Michigan, New Jersey, New York, North Carolina, Ohio, Pennsylvania, South Carolina, Virginia, and West Virginia.

You also are first in line and get "dibs" on new deals, offers and discounts as we continually add them during the year including exclusive offers from partner courses.

Like contests and giveaways? Super Pass members get 2x entries into our contests and giveaways. And if you ever need help you also get access to priority support.

Super Pass is also an annual membership with the renewal date 1 year from your purchase date. We'll email you 2x before the renewal date to make sure you want continue your membership for another year. You can cancel at any time and you'll be able to manage your membership in your account or simply email us at info (at) teetimegolfpass.com with any questions.
When does TeeTime Golf Pass expire?
All TeeTime Golf Passes are valid a calendar year basis from January 1 to December 31 for the year they are purchased and expire on December 31st each year.
What is the refund policy?
Unused passes purchased directly from TeeTime Golf Pass can be returned within 30 days of purchase for a full refund.
Are carts included on all deals?
All TeeTime Golf Pass deals include a golf cart unless otherwise noted.
Does each person need the TeeTime Golf Pass to receive the discounts offered?
All Free Greens Fees and Promo Round plays and Player's Fee offers require each individual to have their own pass. 2 for 1 and 4 for 3 offers require one of the golfers in the group to have a passbook unless otherwise stated.
Can TeeTime Golf Passes be shared?
No TeeTime Golf Passes print or digital editions can be shared.
How much will I save as a TeeTime Golf Pass Member?
TeeTime Golf Pass Memberships give you access for deals up to 50% per round on green fees. A membership can pay for itself in as little as 2 plays. How much you save ultimately depends on how much you choose to play. Many of our members save hundreds of dollars every year and have been loyal members for years.
Recent
Blogs